The kitchens are well equipped with
Dishes
Pots
Pans
Electric toaster
Coffee pot
Microwave
Refrigerator/freezer
Full-sized gas stoves
Dishcloths
Dish towels
Potholder, etc.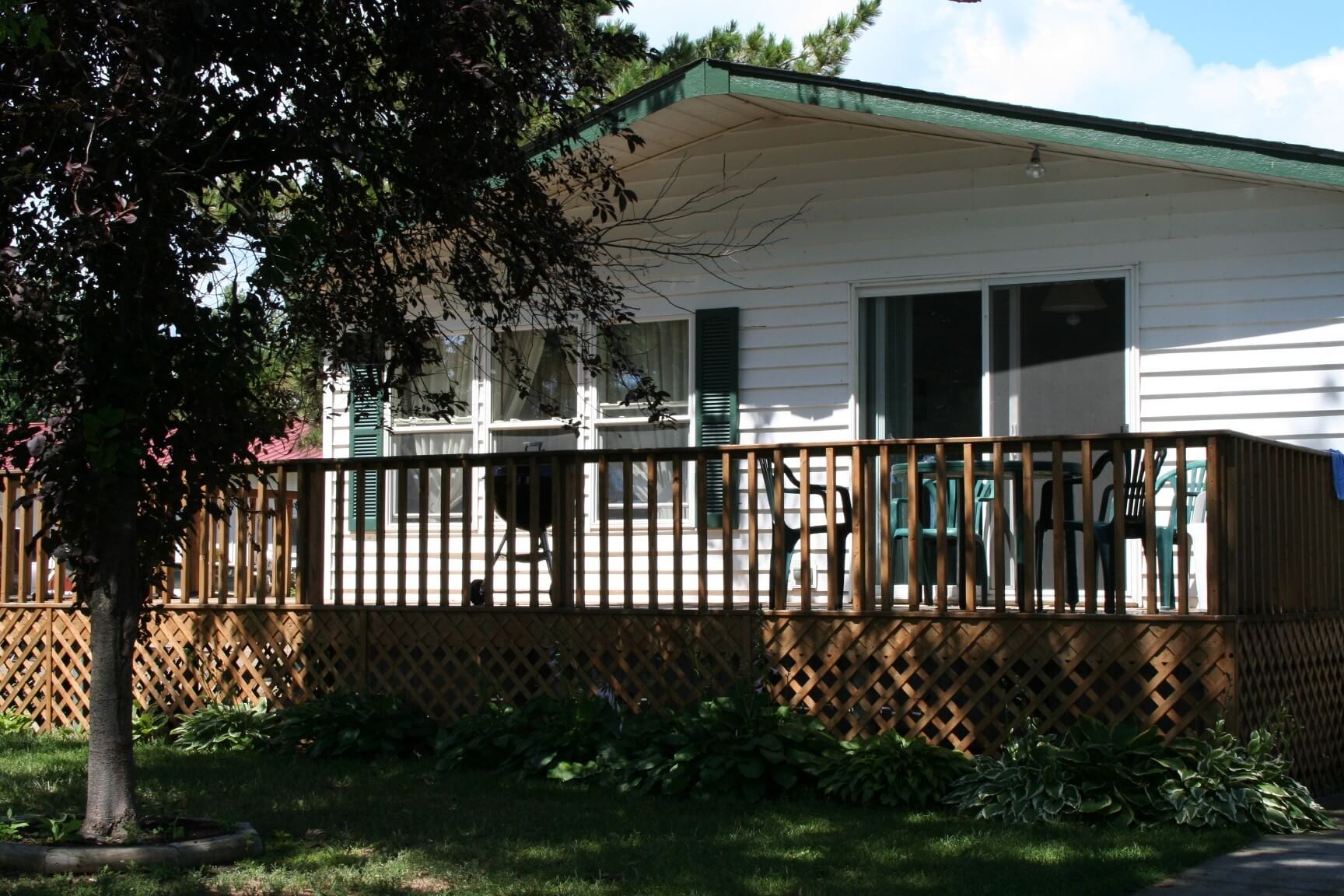 There are ceiling fans in all the cabins (except the Ash has box fans). All full bathrooms have tub surrounds and showers. All six new units A, B, C, D, R & S are air-conditioned and have dishwashers. The four units in the four-plex have fireplaces. All bed linens are supplied. Grills, picnic tables, and patio furniture are also provided. Adirondack chairs are lakeside.
THE FEATURES OF OUR HARBOR
Gear lockers for each cottage
Horseshoe court
Free canoes
Paddleboat by reservation
Lost Lake is the place for panfish, your best bet for swimming, and with the fire-pit located there, it's an excellent place for a picnic. Come, and enjoy.
FOUR-PLEX A B C D – THE OAKS
Four units- two down, two up, housed in an L-shaped building are on the west side of the resort shaded by mature trees and sit on level ground. The bedrooms are carpeted, the great rooms have Mission-style furniture and kitchen cabinets of hickory with Silestone countertops.Wildlife prints decorate the rooms. They have gas fireplaces, air conditioning, and dishwashers. Be in the north woods with the comforts of home. Be among the trees and loon calls in the three-season porches and cookout in the cool night air after a day of fishing.A – White Oak Downstairs 3 or 4 bedrooms with two full baths. Westside of building – excellent view of the lake, 60 feet from the harbor.B – Red Oak Downstairs 2 or 3 bedrooms with two bathrooms, This unit is wheelchair accessible. Eastside of building. Great view of the lake and 60 feet from the harbor.C – Burr Oak Upstairs 3 or 4 bedrooms with two full bathrooms west side of the building. The lakeview is breathtaking!D – Pin Oak Upstairs 2 or 3 bedrooms with two full bathrooms east side of the building. The deck is shaded. NO BUGS!!
COTTAGE E – MAPLE
Maple is a 14-ft. wide mobile home with a covered patio. There are three bedrooms, with three sets of twins, a full bath plus half bath. An island between the eat-in, well-equipped kitchen and the living room housing a full-size hide-a-bed and matching twin hide-a-bed make this the cottage for a crowd.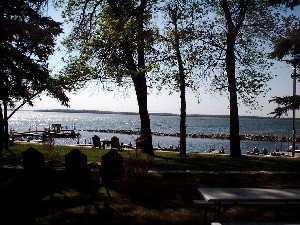 COTTAGE F – WILLOW
Willow is a 12-ft. wide mobile home with an attached covered patio offering two comfortable bedrooms with one double bed and one set of twins, and a full bath. The eat-in kitchen and living room have plenty of light and a good view of the lake. Move right in folks.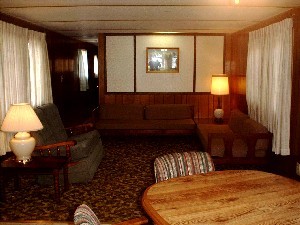 J – ASPEN – (THE APARTMENT)
The most desired dollhouse in the place, this little darling is attached to the lodge but sports its entrances. Park your car at the back door and bring the things right into the efficient kitchen.The great hide-a-bed and blue velvet swivel rockers invite your party and a fifth guest to "sit a spell". From the dining, advantage gazes out on the lake at Star Island scenery. Though short on counter space, the kitchen measures up to the rest, and the spacious bath is a decorator's dream.
COTTAGE K – DOUGLAS FIR
Park your travel-weary bodies in this haven, and you'll be right at home. Three bedrooms, one double bed and two sets of twins, a bath and a half, a good kitchen, a spacious dining area, and furniture on the deck for a view of the lake enhance living here.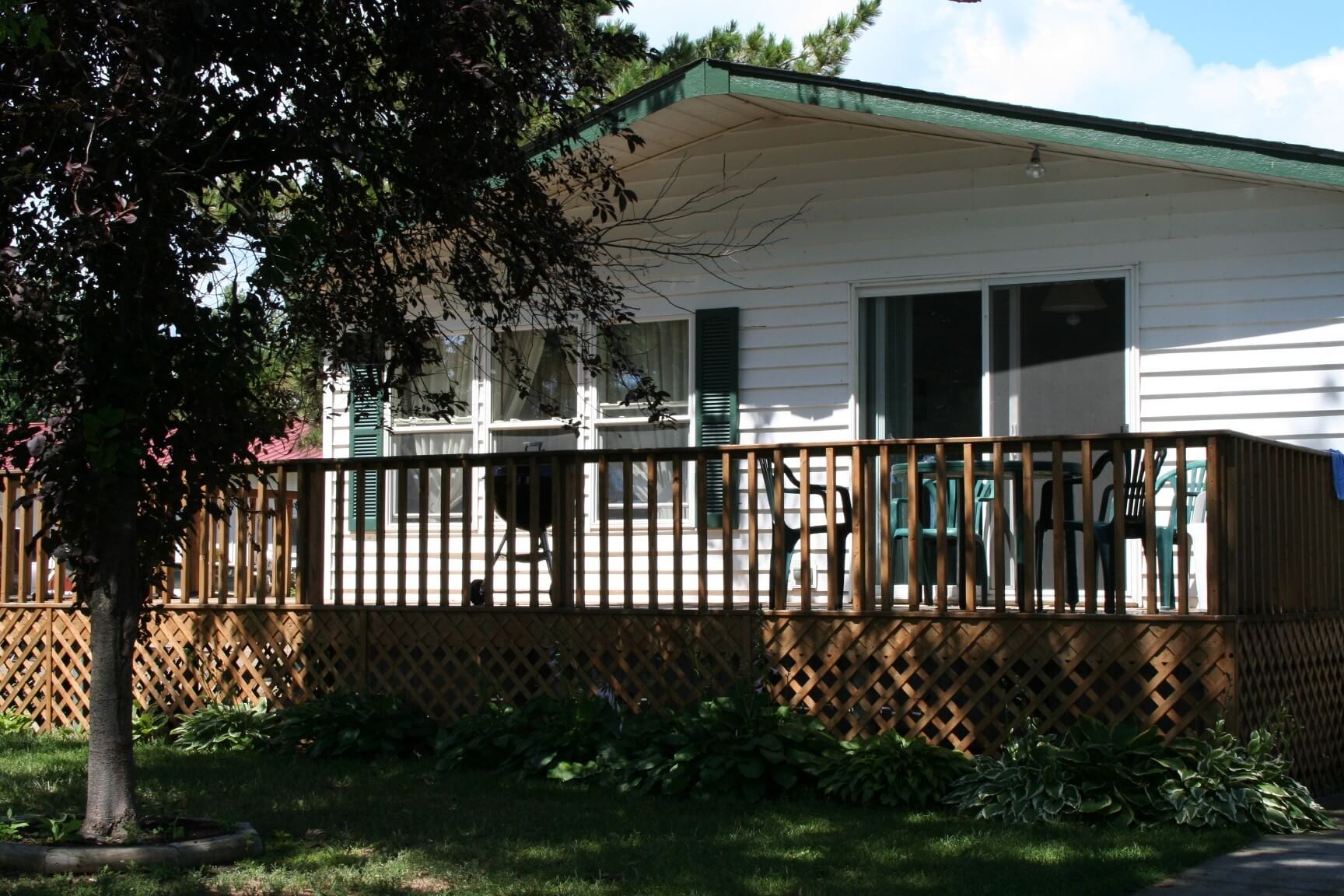 COTTAGE L – SPRUCE
The Spruce offers the best lake view from your deck. Furnishings: matching hide-a-bed and love seat, three sets of twins in three bedrooms. The bath and a half and a dream of a kitchen invite you to unwind while the lake sings its night song.
COTTAGE M – TAMARACK
The oldest cabin at the resort, this cottage is one of the most popular. Lots of windows, hardwood floors, and knotty pine interior create a North Country atmosphere, a hide-a-bed, matching rockers, and love seat, and an attractive dining table and chairs complete the scene.Three bedrooms, all twins, bath, and half make this the vacation home that dreams are made of. The Tamarack, it's hard to leave.
COTTAGE N – CEDAR
The floor-to-ceiling windows boast a beautiful view of the lake. This unit has a compact u-shaped kitchen, half bath, full bath, three spacious bedrooms, all furnished with twin beds. The living area, including hide-a-bed, is spacious and open to accommodate visiting.
COTTAGE P – BALSAM FIR
Luxury says it all for this spacious cottage with a pretty matching hide-a-bed and love seat, six twins in 3 bedrooms, a bath, and a half. L-shaped kitchen and dining area with patio door leading to the furnished deck. No trees but air-conditioned. Some shade on the deck.
COTTAGE R – RED PINE AND S – WHITE PINE
This one-story duplex has a two-bedroom unit on the west side and a one-bedroom unit on the east side. All are outfitted with twins. Each unit has one full bathroom with tub and shower. The great rooms have hardwood flooring, hickory cabinets with Silestone counters and dishwashers. Each great room is furnished with Mission-style furniture and has wildlife decor. The Red Pine and the White Pine boast their own three-season porches and decks. Both are air-conditioned.These two units can also be opened up to make a large three-bedroom cabin.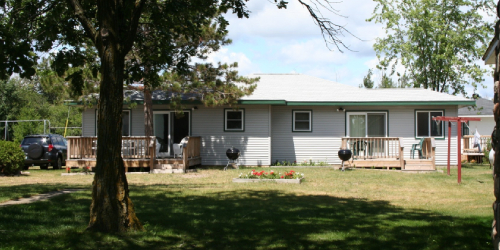 COTTAGE T – JACK PINE
The Jack Pine has been moved to the second tier of the property and is close to the playground. This cottage will accommodate eight guys or 2 couples with four kids using the queen-sized hide-a-bed and 3 bedrooms containing twin beds with a little planning. Only one bath is a draw-back for this crowd. Living-dining cooking is all open, which provides for cozy conversation for your crowd.
COTTAGE U – NORWAY PINE
This little jewel is not for the big guys; there are cramped quarters through-out; however, there are three bedrooms with four twins, one double, and a comfortable couch and chair. The bath, though very small, has both tub and shower like the big ones. Moved to the second tier, Norway Pine has a "shot-gun" view of the lake. Get In Touch